"There a wonderful sense of calm that a sunset cruise brings to the traveller, enhanced by a glass of Italian Prosecco in hand."
Sunset Cruise
A sunset cruise along the Amalfi or Sorrento coastline will be one of the most memorable experiences of your life. And what better way to celebrate your honeymoon, a special occasion or an experience that you and your group of friends will talk about for years to come.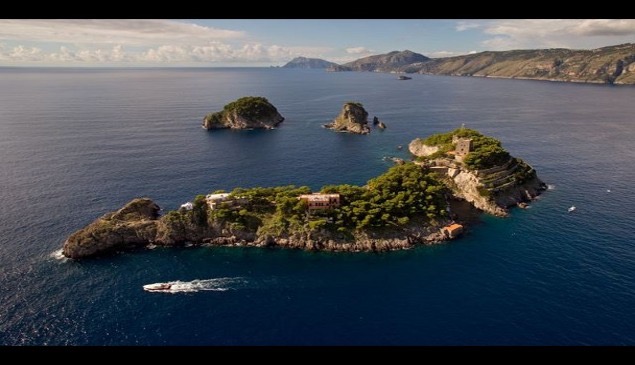 Suggested tour Itinerary
This excursion option is offered only as a private excursion for parties of between 2 to a maximum of 12 people.
Enjoy a glass of Prosecco (Italian champagne) whilst we take you on a romantic sunset cruise along our beautiful Sorrento Coast.
Departing from the main jetty in Positano before sunset, your cruise will make its way to the "LI Galli" Islands, at a very leisurely pace. This stretch of Italian coastline boasts some of the most beautiful sunsets you can imagine and there is no better way to take it in than from the sea.
The Li Galli islands provide the perfect backdrop to the spot where we usually stop to savour a bottle of Prosecco . If you like you may even indulge in a sunset dip. Alternatively the above cruise can be made along the Amalfi coastline.
The cruise duration is 1 1/2  hours.
Life jackets are provided.
Dinner stop off option
We are able to accommodate guests who would like to make a stop at one of the quaint fishing village spots, for a drink or for dinner. The cost of the meal / drinks is not included in the cruise price.
Featured below are the three boats that we use for the Sunset Cruise experience.  They are 33 ft. in length and all of them have comfortable cushioned sun decks, toilet and shower.  There is also a shaded area at the rear for those wanting to avoid the sun.
Our boat accommodates up to a maximum of 12 people.
Booking availability is typically from the Easter weekend to 31 October.
Early booking is essential! As our excursions can only accommodate up to 12 people, it is important to book as early as possible.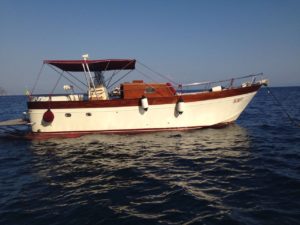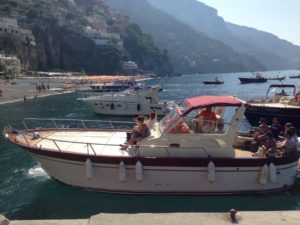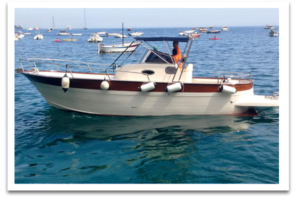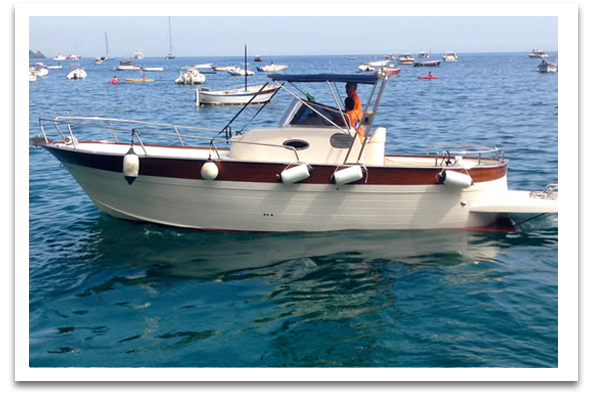 If you like this suggested sunset outing email us now on info@cassiopea-positano.com, providing details of the date and the number of adults and children in your party. We will respond to you immediately including details of our PayPal link to facilitate a quick and easy payment to secure your excursion.
Cassiopea are proud to be ranked as a Tripadvisor top service performer and most popular activity in Positano.