How to Find Us
If you are already on the Amalfi Coast, come and visit us in Positano.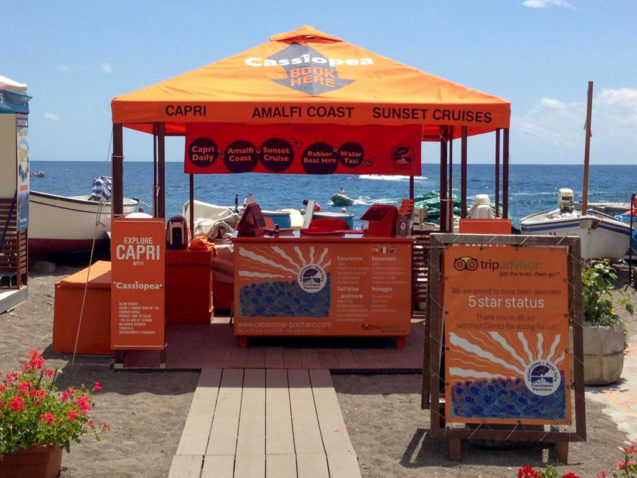 Come and visit our booth on the main beach (Spiaggia Grande) in Positano. Look for the distinctive orange umbrella and t-shirts. Our services run from April – late October and we are available 7 days a week from 08h00 until late at night.
By telephone
You are welcome to call us during working hours of 08h30 – 19h00 Monday to Sunday!
Maddy : +39 339 111 5538
Roberto : + 39 338 847 4700
Email:  info@cassiopea-positano.com
IMPORTANT: When sending us an email please bear the international timelines in mind.  Our booking office operates between 08h30 and 19h00 in the evening Monday to Friday.  We will make every attempt to respond to emails over weekends but please expect a delay in response.  We strive to answer all email bookings received during working hours on the same day.
We have attempted to provide as much detail as possible on our website.  If you have any questions regarding itinerary etc. and do not see the answers in the site, please refer to the Frequently Asked Questions page for immediate answers.